Everything You Need To Know About The Road Salik And Fines In Dubai, UAE?
Featured 448 348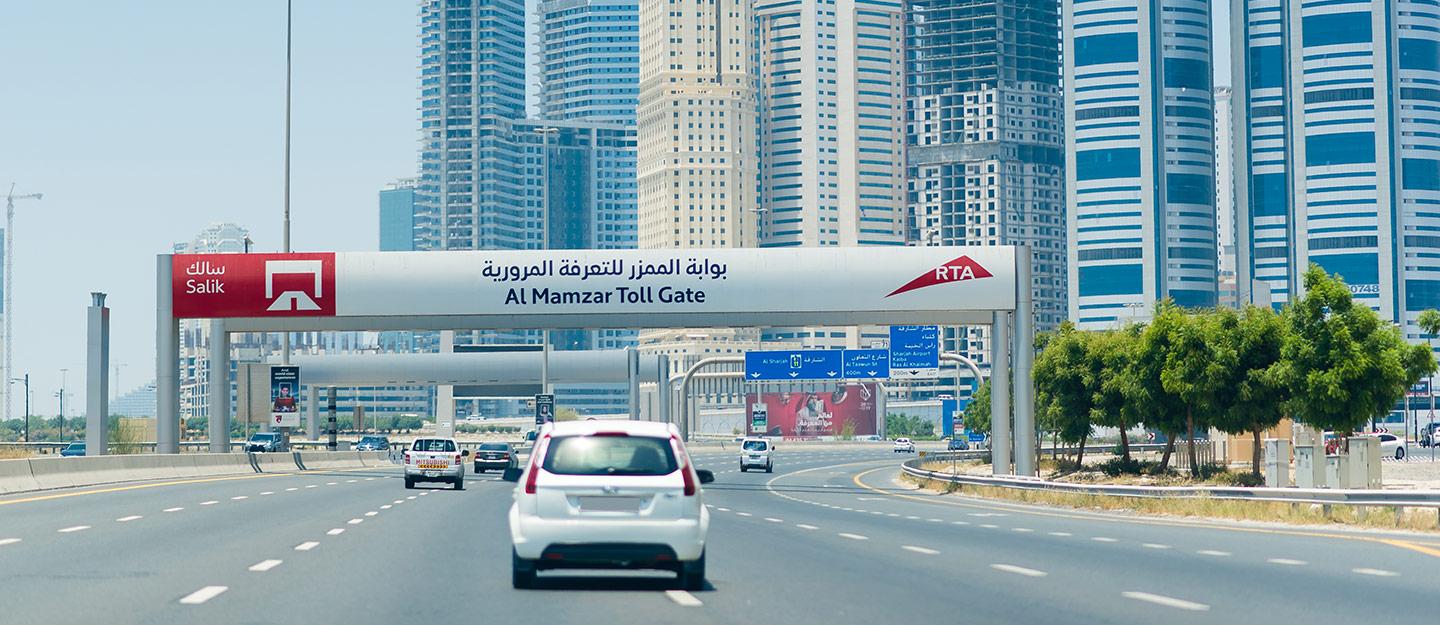 If you are a regular driver in Dubai, then you must be aware of Salik. If you are new to Dubai, this is an engaging read for you on SALIK Toll Gates in Dubai.
Salik
The term Salik means precise or open in the Arabic language. An electronic toll gate installed by the Road and Transport Authority aims to achieve free flow traffic with no manual operations which eventually will reduce traffic combustion.
The government introduced the Radio Frequency Identification Technology(RFID) system in 2007. This technology scans the Salik tags, verifies and simultaneously charges the vehicle a stipulated amount from the prepaid Salik account.
How To Open A Salik Account And Tag?
Opening a Salik account is an effortless process. Visit the website of the Salik government and fill out the application form or visit the RTA locations at Dubai Islamic Bank and Emirates NBD Bank or any of the petrol pumps in Dubai to fill out the form and submit it. Hand over the required documents and fees along with the application.
After the culmination of the process, receive the Salik kit, which carries a tag. The Salik tag must be stuck on the windshield without any damage. A Salik tag is a sticker, when you pass through a Salik entrance it will automatically scan and charge the required amount.
Rental Car Users To Know About Salik?
If you are a Selfdrive rental car customer, then relax and drive your rental car without any stress. Salik tags are stuck on all Selfdrive rental vehicles. Opening a Salik account and other processes are already done by the rental company in advance.
Salik will be estimated and redeemed from the security deposit at the end of the rental duration. Each journey crossing Salik is charged 5 AED from the rental company.
What Are Roads That Have Salik Gates?
In Dubai, UAE there are a total number of 7 roads where Saliks are inaugurated. You can spot them around major highways and bridges.
Al Garhoud Salik Gate
Al Maktoum Salik Gate
Al Mamzar North Salik Gate
Al Mamzar South Salik Gate
Al Safa Salik Gate
Airport Tunnel Salik Gate
Al Barsha Salik Gate
Jebel Ali Salik Gate
Alternative Roads To Avoid Salik?
Avoid Salik by driving on several other available alternative roads to reach your destination. Google map provides you with an option called "Avoid tolls", which reroutes your journey to roadways without any tolls. Here are the routes that you can use as an alternative to escape from Salik.
To avoid Salik during your journey from Dubai to Abu Dhabi, use E311/ Sheikh Mohammed Bin Zayed Road. This road avoids Jebel Ali Salik, Al Barsha Salik and Al Safa Salik Gate.
To avoid Al Maktoum Salik Gate, use the Floating Bridge.
D 83/Rebat street is a free road that bypasses the Airport Tunnel Salik Gate.
To evade the North and South Salik Gate, drive on Al Wahda Street, Al Damascus Street or E311/Sheikh Mohammed Bin Zayed Road.
Timing When Salik is free?
Except for Al Maktoum Salik Gate, all other Salik gates are active 24/7, even on public holidays. Al Maktoum is free from 10 pm to 6 am when the floating bridge is closed. Also, if you pass through Al Mamzar Noth and South Salik within an hour,you will be charged only once.
Which Vehicles Get An Exemption From Salik?
Few vehicles in Dubai get exemption from paying Salik. Vehicles like school buses, college buses, ambulances and government vehicles like military vehicles, police vehicles and RTA public buses are free from paying the Salik fee.
Salik Fines
Suppose there is an insufficient amount in your Salik account. A fine is imposed after 10 days of the grace period. 100 AED on the first day you pass through the Salik toll gates, 200 AED on the second day and 400 AED for subsequent days.
Wrap Up
Salik fees are the account holder's sole responsibility despite whoever drives the vehicle. Also, multiple vehicle owners can have one Salik account for all the vehicles. Rent a car from Selfdrive.ae and enjoy hassle-free drives.
---